Justin Timberlake enlisted his wife as the woman of the woods! The singer dropped his music video for the title track of his new album, "Man of the Woods," on Friday, February 2, and it includes a romantic dance with Jessica Biel.
After a montage of outside scenes, Timberlake, 37, enters a barn and brings along Biel, 35, to twirl around the dance floor. While the "Filthy" singer is wearing red plaid and a beanie, The Sinner star is wearing a white dress with cowboy boots.
The video also ends with the pair walking off — and dancing again — toward the mountains, arm in arm.
This is a huge week for Timberlake, who is also the halftime performer at Super Bowl LII, set for Sunday, February 4. The last time he performed at the big game was in 2004 when he accidentally exposed Janet Jackson's nipple during a dance move gone wrong. Jackson, however, won't return this time around.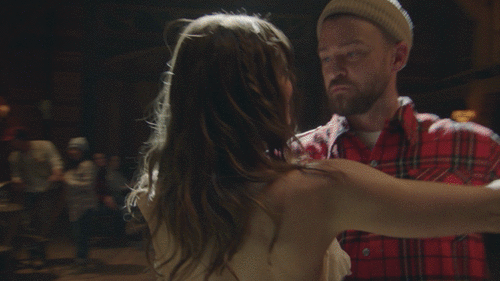 "To be honest, I had a ton of grand ideas about special guests. There's a whole list. I think Vegas has a lot of odds on it, from 'NSYNC to Jay [JAY-Z] to Chris Stapleton to Janet," he told reporters at a press conference in Minneapolis, Minnesota, on Thursday February 1. "My band, The Tennessee Kids, they're my special guests. I'm excited, this year, to rock the stage. It's gonna be a lot of fun."
Best of @jtimberlake's @SuperBowl LII #PepsiHalftime Press Conference! #SBLII pic.twitter.com/wefpFqnUBW

— NFL (@NFL) February 2, 2018
He also said he'll be "doing a few things with this halftime show they've never quite done before."
Toward the end of the press conference, Timberlake was asked if he'd be OK with his 2-year-old son, Silas, becoming a musician one day. "Right now we're working on our manners. That's big deal in our house. One thing at a time," he said. "My main objective is he become a great person."