That private plane, though. The Backstreet Boys are known for countless hits, but nothing has quite compared to "I Want It That Way." The music video for the ballad has remained a part of '90s culture — even though the band was embarrassed to even film it.
"I just remember having to film the music video in-between doing a lot of stuff. I don't remember traveling but I remember coming in and working up a choreography routine at the last-minute. I think we felt that it was super cheesy and it was something that was unnecessary," Nick Carter exclusively tells Us Weekly. "It was kind of like we didn't want to do it."
Needless to say, Carter, 37, and his bandmates — Brian Littrell, Kevin Richardson, A.J. McLean and Howie Dorough — were surprised by the fan reaction.
"Later on it was one of the most iconic scenes when the chorus hit. It didn't feel as epic as some of our other videos that we had done prior to it," he continues. "[We felt] like it wasn't the greatest music video — at all. And we didn't feel like we lived up to it."
"I Want It That Way" was the first single off their third album, 1999's Millennium. In the video, the group is greeted by screaming fans on an airport tarmac while singing into the camera. They'd later coordinate in all-white outfits as they danced in a terminal.
The Backstreet Boys continued to have huge success, but have had their ups and downs since forming in 1993. Richardson left the band in June 2006, but made his return six years later.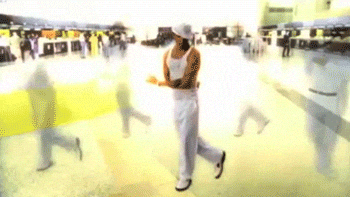 "I just had never seen us not being together. I don't know why that is," Carter tells Us. "We enjoy what we do. We love it. We are a family, we have fun together and we enjoy the music. We love our fans and we love what we represent. A good part of history when it comes to the '90s is just interesting people — times have definitely changed but we feel our representation of that golden age and we're proud of it."
So much so that they've extended their Las Vegas residency into 2018. And (quit playing games with our heart!) new music is on the way. "We are trying different types of songs. A lot of it is very mature but sexy at the same time," Carter says. "We're comfortable wanting to make sure that we stay with who we are and stay true to who we are but at the same time embrace being men because we're a little bit older. And I always try to tell everybody to keep the romance in there. That's a win, win."
When they aren't performing, the longtime pals are also giving back. Recently, Carter teamed up with the "Lace Up, America" campaign to honor veterans for Veteran's Day. Dubbed "National Boot Week," the Boot Campaign encourages people to wear combat boots to spread awareness and to donate to the cause. "My dad, he served in the military a while ago, so I definitely have some connection when it comes to the campaign," Carter tells Us. (The singer's dad, Robert, died at age 65 in May.) "I really wanted to do it. Anything that we can do to raise awareness for good causes and our military — we support them and are grateful for everything that they do for us. Anything that we can do to give back."
For more, read the rest of his Q&A below:
US: What's one of the most memorable music videos the group did?
NC: One that stands out to me that was a lot of fun was we had done this music video in Japan and it was a song called "Bigger" [in 2009]. It was very hard because we did it on a handycam and we basically had to go on the street and shoot things and just run away. It was so crazy and a lot of fun though at the same time. It was the Backstreet Boys set in between the Japanese culture. It was very fish out of water, very fun.
US: Do you ever get tired of performing a certain song?
NC: Not really sick of anything. We've breathed new life into these songs in the show because we have some new choreography. When we do "Everybody (Backstreet's Back)," which is a lot of fun, we do two dance breaks. It's reminiscent of some old MTV Music Awards performances with new choreography. So that makes the choreography, the new production, the new venue we are playing in — all those things really lend themselves to being very entertaining for us. There's nothing that really stands out that I don't enjoy to perform.
US: Have your workouts changed throughout the years?
NC: Obviously cardio is very important to us. We all try to stay in shape as much as we can with weightlifting and strengthening our legs. It's kind of hard to do leg days between our shows. Right now we have a two-week run so if I did a really hard leg day — squatting or lunges or anything of that range — it would probably blow my legs out. It would be a nightmare on stage. So we tend not to do any leg workouts during the runs. But upper body and cardio is really important from a dancing standpoint — especially the older you get. We have a very intense show when it comes to the amount of choreography so we need a lot of energy. I think if I'm correct, Vegas is about 2,000 feet above sea level, so we got to be in good shape.
US: Do you regret any band outfits?
NC: Oh man, everything! Everything that we wore in the past we regret. No, I'm just joking. We were watching some footage yesterday before our show … Some old footage of us as young teenagers. And we were performing at Brian's high school — this is before we even got a record deal. And I just remember wearing all of these really baggy suits and they were oversized. It didn't even look like they were meant for us. They weren't our size at all and the colors were horrible. They had green and mustard yellow. It was one of the most horrible things I ever saw. It was like, how did these people even allow us to go out there like that?