Jennifer Lawrence and Emma Stone were the best friends you never knew you needed! The pair were seated together at the 2018 Academy Awards, held at Los Angeles' Dolby Theater, both sipping white wine and laughing together through the show.
In the opening monologue, host Jimmy Kimmel made a joke about the 2017 Oscars Best Picture flub when Stone's film La La Land was announced as the winner when it was actually Moonlight that had won. "This year, when you hear your name called, don't get up right away … give us a minute," Kimmel said. Following the joke, the camera panned to Lawrence pointing at Stone, playfully making fun of her.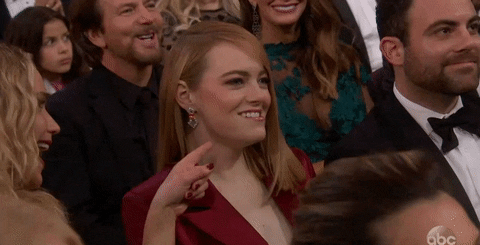 Us Weekly spotted Stone, 29, and Lawrence, 27, throughout the night having a great time together! In the lobby, the actresses were drinking sauvignon blanc and chardonnay and mingling with Judd Apatow. Lawrence was also overheard making a Grease reference to the Easy A actress. "You're Sandra Dee and I'm like Rizzo," she told her friend.
The pair have been pals for years. In 2016, the Red Sparrow star said that she doesn't like to stay out late because then she parties too hard and gets sick. "Ask Emma Stone," she said in an interview with Harper's Bazaar. "It was the night we saw Adele in L.A. She just started rubbing my back. She was really sweet. I was like, 'Get out of here. It's so gross.'"
In January 2018, Lawrence posted a video on Facebook revealing that Stone had asked her to go to a Golden Globes afterparty with her —but then changed her mind last minute, when Lawrence had half her makeup done. "Well, you had told me that you wanted me to be your date to afterparties so I got us some tickets to the afterparties, I booked a car and I was halfway through glam when you told me that you didn't want to go. You just wanted to come over to my house. So I sent my hair and makeup team home," she said in the video, showing off her half made-up face.