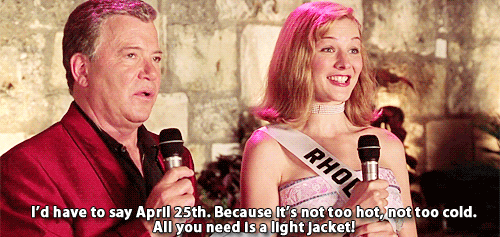 "Miss Rhode Island, describe your perfect date." William Shatner has teamed up with Match to ask once again ask that iconic question from Miss Congeniality nearly 20 years after the film's debut.
"That's a tough one. I'd have to say April 25th, because it's not too hot, not too cold. All you need is a light jacket," Cheryl Frasier (played by Heather Burns) infamously replied in movie, which starred Sandra Bullock as an undercover pageant contestant.
Shatner, who played pageant host Stan Fields in Miss Congeniality and its 2005 sequel, teamed up with the dating service on Wednesday, April 25, to give singles the opportunity to describe their perfect date and potentially win $500 toward their ideal outing.
"Hey Miss Rhode Island, who knew that your response was going to turn into a national holiday? The perfect date, remember? 'Not too hot, not too cold, just bring a light jacket," the actor began in a video posted on social media on Wednesday. "And to think it was 20 years ago that I asked that question … Well, I'm back and I've teamed up with Match to ask that same iconic question, 'What is your perfect date?''
Shatner explained in the clip that he will  be "monitoring" the fan responses and "calling out some of [his] favorites" throughout the day.
"One of you will win some cash to help make the perfect date," he added. "[So] do the darn thing … And don't forget to bring your light jacket!"
The Star Trek star also spoke exclusively to Us Weekly on Wednesday about his idea of a perfect date.
"We would start the morning on horses – well-bred, well-trained, docile horses. Maybe horse trails in the woods somewhere. Lunch besides the beach, maybe a light salad and broiled fish," he explained. "Sailing that afternoon in a small sailboat, catching the wind and catching up with each other. Dinner on the beach by a fire roasting potatoes with olive oil and garlic. Slip in a sip of wine there and then that evening the perfect date would then reach it's perfect ending which is either tickets to a play, a movie or if the day has gone well, sitting in a quiet club and getting to know each other."
Shatner added: "Can you tell I am a man who knows what I want! Note to all you single young men on Match – Take initiative and make a plan!"
Sign up for Us Weekly's free, daily newsletter and never miss breaking news or exclusive stories about your favorite celebrities, TV shows and more!
Miss Congeniality originally hit theaters in 2000.