Whether you're heading to the office or dressing up for a hot date, nothing finishes off a look quite like a set of beautiful lashes. And while eyelash extensions and salon-grade lashes look fabulous, their price tag is enough to give you heart palpitations (did someone say $300+?!). Why spend all your extra dough on expensive lashes when you can get an incredible three-pack of Imitation Mink Lashes for just $25? Yeah, you read that right.
If you've been on Instagram lately, you've seen all the fabulous things false eyelashes can accomplish. While they're only an inch or so long, good false eyelashes are powerful and they can turn a "meh" look into a jaw-dropping one in seconds.
The cool thing about the Imitation Mink Eyelash bundle is that you can get three dynamic lash styles with varying levels of volume without ever stepping into a salon. And you can wear them again and again! Imagine the time and money you'll save popping one of these bad boys on just seconds before running out the door! And unlike other tricky lashes, these are super easy to put on — even if you're new to the falsies game. And if you're looking for some great looks to pair with your new gorgeous set of eyes, we've got you covered. Here are five of our favorite glamorous looks using our favorite imitation mink eyelashes.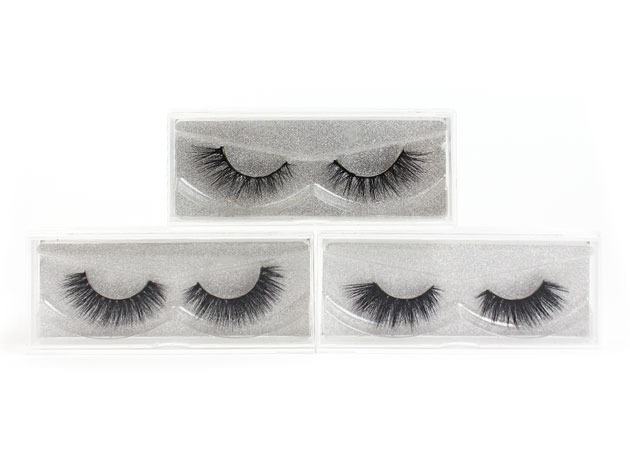 See It: Grab the Imitation Mink Eyelash bundle (originally $80) now 68% off for only $25!
1. The Classic Cat-Eye
This classic yet elegant cat-eye look has stood the test of time, honey! Seriously, you can rock this look at the office, out with the girls, or even on a day of running errands. All you need is a great liquid liner, a nude shimmer shadow and of course, imitation mink eyelashes. Yes, it's that simple!
First, start with the upper-lid. Take your liquid eyeliner wand and slowly draw a line along the edge of your lid. Go slow — you want this line to be flawlessly smooth. Stop when you get to the outer edge of your eye. Pointing your wand slightly upward, draw a slanted line. Next, slowly connect the upper edge of that slant with the end of the line on your eyelid. Depending on the shape of your eyes and the amount of drama you want your look to have, you can draw a thinner or thicker line here.
Next, take your nude shadow and lightly blend it on your inner eyelid to add a little bit of clean shimmer to your lid. And last but not least, apply the beautiful imitation mink lashes! Once the lashes are in place, pinch your real lashes against them using a lash curler for a beautiful finished look!
2. The Smokey Seductress
If you're getting tired of rocking a basic smokey eye on girls' nights, try taking your look up a notch or two with the imitation mink eyelashes! Start with an eyeshadow palette of black or charcoal, nude, and shimmer. On the outer edge of your eyelid, lightly blend in your darkest color. Then with another special blending brush, blend away! Make sure it looks soft around the edges. Now on your inner eyelid, you can add in the nude shade and a little shimmer. The key to this look is blending! Finally, add a nice, voluminous pair of the imitation mink eyelashes to finish off the look. Sultry, baby!
3. Go Retro
Back in the '60s, it was all about lovin' the lashes! So whether you're going out on a hot date or to a costume party, this eyelash-centric look is sure to turn heads. First, prep your eyelids similarly to how you did for the cat-eye look. But instead of adding an angled wing to the ends of your lined lids, stop at the edge of your eye. This will accentuate your lash line without as much of a dramatic look. If you'd like to add some nude shadow to your lids for extra coverage, you can, but it's not necessary.
Next, put on those lashes the same way you've done in the other looks. Once they're on, really lay on the mascara. But wait — you're not done yet! Last but not least, add a few layers of mascara on your bottom lashes. Once you've done this, take a lash comb and section off your bottom lashes so they're really bold. Way to capture those Twiggy vibes, groovy girl!
4. A Pop of Color
If you love living on the edge, adding a bold color to your eye makeup can be super fun. Pick an eyeshadow color like purple eggplant or emerald green and blend it into your lid along with a pop of shimmer. And with a bold eye like that, it's practically begging for a dramatic lash! Add a pair of thick imitation mink lashes to this look for an exotic twist!
5. Sparkle Queen
Calling all girly girls: sparkle is in! Using a bit of sparkle on your lids is a great way to take advantage of today's ever-present metallic trend. Make up your lids in a very light smokey eye, blending a nude shade with a dark gray or brown. Get your hands on your favorite loose shimmer powder in either a silver, gold or rose pink shade — whatever color speaks to you most. Using your ring finger, lightly dip it into the jar of sparkle and gently dab it onto your lids. A little sparkle is great for work or a family outing, but feel free to pile more on for a night on the town. And of course, no look would be complete without a beautiful set of false lashes!
Start rocking your favorite makeup looks with your own pair of imitation mink eyelashes at a jaw-dropping price of just $25!
See It: Grab the Imitation Mink Eyelash bundle (originally $80) now 68% off for only $25!
Check out more of our picks and deals here!
This post is brought to you by Us Weekly's Shop With Us team. The Shop With Us team aims to highlight products and services our readers might find interesting and useful. Product and service selection, however, is in no way intended to constitute an endorsement by either Us Weekly or of any celebrity mentioned in the post.
The Shop With Us team may receive products free of charge from manufacturers to test. In addition, Us Weekly receives compensation from the manufacturer of the products we write about when you click on a link and then purchase the product featured in an article. This does not drive our decision as to whether or not a product or service is featured or recommended. Shop With Us operates independently from advertising sales team. We welcome your feedback at ShopWithUs@usmagazine.com. Happy shopping!
For access to all our exclusive celebrity videos and interviews – Subscribe on Youtube!