Scott Patterson's not just pouring the coffee anymore — he's making it. The actor, best known for playing diner owner Luke Danes on Gilmore Girls, has launched his very own coffee line called Scotty P's Big Mug Coffee.
Patterson, 59, has been wanting to launch his own company for quite a while. "I was waiting for a time where I would be a little more settled and not going so fast all the time," he explains to Us Weekly. "The amazing thing is that when my son [Nicholas] was born three years ago ironically I found the time and the feeling of being settled to look at him and to say to myself, 'I'm going to launch this company now because I want this little boy to see me building something.'"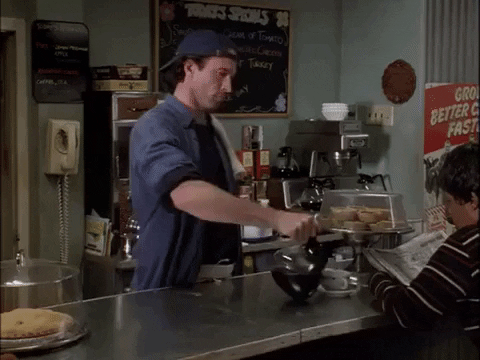 Patterson is very proud of his product. He describes the roast as a smooth and complex flavor with no added bitterness. "Coffee is even more complex than wine with the flavor and aftertaste," he says. "I would call it a high-end diner blend. It's reminiscent of the diner where I grew up in Southern New Jersey. There's almost a specialty feel to it and that's what I was looking for. I wanted to give people something that was higher quality."
Noting that he's a "coffee nut," he adds: "If you drink it black and you like the flavor and you don't really want to add anything to it — that's the challenge. So I feel I've achieved that. … And to do that for under $10 for 12 ounces was very, very challenging and it took a long time. But I achieved it with five blends and I'm coming out with a sixth."
The backstory to the star's coffee line is a touching one. In addition to creating it for his son, he was inspired by his late mother, Hope.
"My mother is who this coffee company is really based off of because my mother was the only person who really took care of me and believed in me and set me on the right path. She was the only person in my life that I could talk to growing up. When I was a teenager we used to sit in our little, tiny kitchen drinking instant coffee deep in the night discussing life," Patterson tells Us. "This is really about her and the logo of the brand — the archer — is my mother. She's the protector and has always been my protector and always given me the strength I need to carry on and get things done. She would just say, 'Stay out of his way. He will show you how it gets done.' She instilled me the ability to get it done. And that's what I'm doing with my company. It's really for her. It's a tribute for her and what I should be doing with my life."
He adds: "She's the DNA of all of this. It's family. It's my mom, my son. It means everything to me so I want everything to be as great as it can be."
Patterson is mainly focused on his company these days, which raises the question: would he ever stop acting? "I'm capable of doing many, many things at the same time. However, if you want to be great at something you have to be 100 percent focused," he tells Us. "You can have all the experience in the world and the resume — I've been on three different series, one was hugely successful and the two ran a year — and it doesn't really matter unless you are some kind of big deal. You are just sort of treated like you just got into town. And I don't know if the actor business is structured in such a way where — in other words, I thought it was a meritocracy. It is not a meritocracy. And it's not just me. There's a lot of people that are really good at this and they don't get the readings or the consideration compared to the people that are better connected. And now I'm doing something where if I do this to the best of my ability and go out and market it it really depends on how my team approaches it and how we execute. … I just love waking up in the morning and having my own company and being the boss."