The 24th Annual Screen Actors Guild Awards began making history before the show. Kristen Bell served as the show's first ever host and the 2018 presentation included all-female presenters.
"Culturally, there's always been a conversation about equality. Now there's some mega-spotlights on this conversation and, dare I say, some pyrotechnics in the background," Bell, 37, told The New York Times last month. "I'm not the first female host. I'm the first host. The fact that a female was chosen to be the first one means my genitals become irrelevant."
Here's a recap of all the biggest moments:
9:58 p.m. ET. Dancing her way to the stage, Frances McDormand took home the actor for Outstanding Performance by Female Actor in a Lead Role for her part in Three Billboards Outside Ebbing, Missouri.
9:44 p.m. ET. The cast of This Is Us was very shocked when they learn that they've won for Outstanding Performance by an Ensemble in a Drama. Milo Ventimiglia took the mic to thank everyone on the show and behind the cameras, as well as the fans. "We love you," he told the NBC hit's viewers.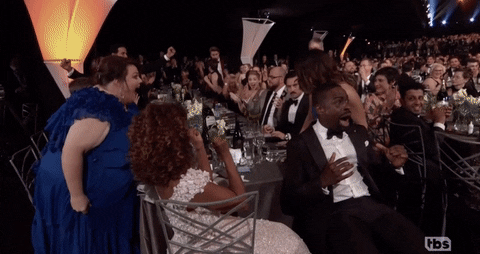 9:26 p.m. ET This Is Us' Sterling K. Brown teared up taking the stage to accepting the actor for Best Performance by a Male Actor in a Drama Series. His victory marks the first time a black actor has won the category. "You're the best scene partner a brother's ever had," he said to his wife, Ryan Michelle Bathe, right off the bat. He also thanked his costars, who he referred to as his "white family," saying he's happy they're "nothing like the family from Get Out!"
9:12 p.m. ET: Morgan Freeman accepted the Lifetime Achievement Award while wearing a baseball cap. "I'm gonna tell you what's wrong with this statue," he told the audience. "It works from the back. From the front, it's gender specific … Maybe I started something." With that, he walked off stage.
8:53 p.m. ET: Continuing her sweep this awards season, Nicole Kidman won the actor for Outstanding Performance by a Female Actor in a Limited Series for her part in Big Little Lies. While her costar Reese Witherspoon put her arms up and cheered for her close pal, Kidman immediately started to cry on stage and said she has the flu!
Get you a friend that cheers you on the way @RWitherspoon cheers on Nicole Kidman 🙌🏼 #sagawards pic.twitter.com/FdtGfpMO4b

— SAG Awards® (@SAGawards) January 22, 2018
8:34 p.m. ET: When Sam Rockwell won the actor for Outstanding Performance by a Male Actor for his role in Three Billboards Outside Ebbing, Missouri, his partner of nearly 11 years, Leslie Bibb, got so excited, she hit his arm and kissed him.
8:04 p.m. ET: The first-ever SAG Awards host, Kristen Bell, took the stage at the top of the show to make a joke about the first lady. "I never thought I'd grow up to be the first lady, but you know what? I kinda like it," she said. She then added that she wanted her first initiative to be taking down cyberbullying.
8:02 p.m. ET: Millie Bobby Brown admitted that years ago, she would sit at home and do Joan Rivers and Amy Winehouse impressions. Then she was nominated for two SAG Awards for her role as Eleven in Stranger Things.
6:12 p.m. ET: One of the first interviews on the red carpet was Alison Brie, who was asked about the recent allegations of sexual misconduct against her brother-in-law James Franco. "It remains vital that anyone who feels victimized has the right to speak out and come forward. I obviously support my family and not everything that's been reported is fully accurate," the GLOW star told Giuliana Rancic.