It seems Lisa Kudrow is more like Phoebe Buffay than we thought! The Friends actress opened up about her avoidance of personal fitness at the Burn to Remember event at Burn 60 in West Hollywood, California, on Friday, March 2.
Kudrow, 54, was joined by her former costar Courteney Cox at the event, where the pair worked out alongside and honored first responders. "I'm the least fit person you've ever met," the Comeback star told Us Weekly. We all remember Phoebe's hilarious style of running on Friends, so perhaps life really does imitate art?
Cox chimed in with her take on group fitness classes: "I'm the one that's the most reluctant and the last to leave. I never want to go anywhere and then I'm like, [in peppier voice] 'Bye everybody!'"
While the Cougar Town alum, 53, likes playing tennis for exercise, Kudrow prefers walking, but that doesn't mean she can't appreciate her friend's expertise. "She plays good tennis too! I used to play tennis," she told Us.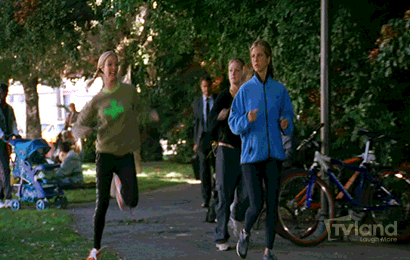 Kudrow and Cox walked on treadmills beside dogs who were getting their steps in at the studio during the event. They also told Us about their group text chain with fellow costar Jennifer Aniston. "Lisa, Jennifer and I all have a text chain, but to me it's too much pressure. I'm not into the group text chain. I really don't like it," Cox admitted.
"And then you have something funny to say and you say it but then you send the text and they don't get it," the Scream star added. So that's what Friends would be like in 2018.