If you haven't noticed, straws are so last season. No seriously, unless you want to deal with judgmental eyes as you walk around town with your iced coffee in-hand, eco-friendly, reusable straws are the new way of the world. But with colorful, stainless steel straws like these, we're happy to switch over to the green side of things!
Okay, so why are we switching over to reusable straws exactly? The straws you normally use to sip on your favorite iced coffees, sodas and teas are made of plastic that takes up to 500 years to decompose. That means our used sipper-helpers are just sitting in landfills and oceans, adding to the ever-growing pollution our earth is rapidly collecting. As an attempt to make the world a greener place, people everywhere, including popular coffee houses and restaurants, are providing reusable straws in their everyday drinks.  And this 8-pack of stainless steel straws is the perfect way to do your part in making this world a cleaner, happier place for just $12.99.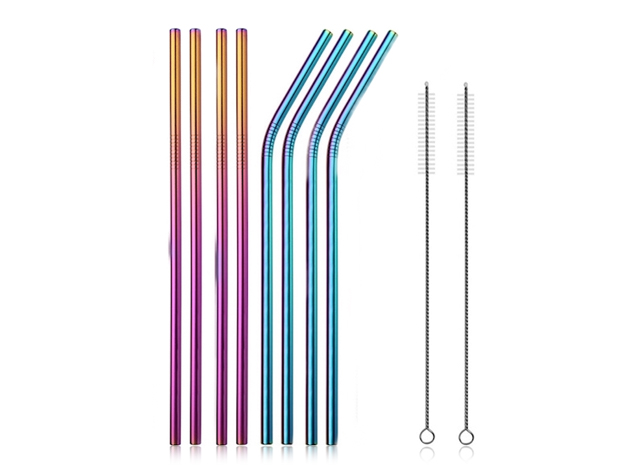 See It: Grab an 8-pack of stainless steel straws (originally $50) now just $13! You save $37!
Unlike recyclable straws made of paper, these bad boys are incredibly durable and won't get mushy and wet as you use them. Whether you're sticking one in your cocktail at your favorite bar, or your iced tea at your friend's baby shower, these straws are built to use again and again! They're also super easy to clean and come with two cleaning brushes for incredibly convenient rinsing. They're even corrosion resistant! These eco-friendly straws come in a fun rainbow hue and are BPA-free, making them safe not only for the environment but for little old you as well. Right now, you can get the eight pack for just $12.99, that's 74% off their full price!
Using reusable straws like these in your everyday life is a great way you can significantly lessen the earth's pollution, but it's most certainly not the only thing you can do. If you don't want to completely change your lifestyle and live off the grid and conserve electricity to the point of forgoing Netflix binges and phone charging, there are tons of little ways you can help the earth become a safer, cleaner place.
1. Carry around your own tumbler with your steel straws.
Along with plastic straws, plastic cups are also a huge pollutant causing harm to the environment. Just think about it: how many times have you gotten a plastic cup for water at a fast-food joint, or at your local smoothie bar? Exactly. Similarly to how you'd carry around your own reusable straws, you can tote around your own plastic, glass or rubber tumbler. Some stores even sell the kinds that collapse inward, making it incredibly easy to pop into your purse — even that tiny one you take with you out to girls' night.
2. Carpool it up!
With so many great ride-sharing options at your fingertips these days, there's no reason why you can't carpool to at least half of the events you attend every week. Whether it's work, a party or a road trip, carpooling in some capacity is a great way to cut down on air pollution caused by smog. Want to really make a difference? Try replacing one activity you typically drive to every month with a walk or bike ride. Instead of driving to the grocery store on Sundays, hop onto your bike! Hey, at least you'll get an automatic workout out of it. 
See It: Grab an 8-pack of stainless steel straws (originally $50) now just $13! You save $37!
3. Cut down on electricity when you can.
We get it — electricity is a must-have, there's no way around it. But it is possible to cut back, especially during certain times of the year when electricity usage surges way high, like summertime. During hotter months, instead of blaring the air conditioning mindlessly for 12 hours straight, try setting a thermostat at a comfortable setting so that it automatically shuts off when it hits that temp. And at night, turn it off altogether and open the windows to let the cool night air in. In some homes, you can even install a whole house fan that helps suck the cool outside air in and push warm, stale air out.
You can also switch out all your light bulbs for energy efficient ones and set them to timers that automatically turn off in case you forget. And if you love falling asleep to the gentle sounds of Friends reruns, set your TV to a timer that shuts off after you've drifted off into dreamland. Ah, technology.
4. Choose one day a week to go vegetarian or vegan.
Deciding to become a full-on vegetarian or vegan is a massive commitment, and you shouldn't feel bad if you just can't give up taco nights. But since farms use massive amounts of water to produce just a single pound of beef, giving up meat just once or twice a week can really help out the environment. Even skipping out on dairy for one day can significantly lessen your carbon footprint considering the fact that the land reserved for dairy farms takes over miles and miles of forests and innocent wildlife. And who knows, after doing this for one day a week, you may be inspired to try it out for a little longer!
5. Switch your bills to come online.
Wouldn't it be great if you could opt out of your bills altogether? Well, since that's not really an option, you can at least choose to keep them out of your mailbox. Whether it's your energy bills, water bills, or credit card bills, you accumulate tons of paper you'll just throw away anyway. Instead of dealing with all that paper, simply switch your bills to be received by email! It'll take you just a moment to make the switch, and you'll completely eliminate your chances of losing them and frantically panicking the day your money's due — just check your handy inbox!
Start reducing your carbon footprint one drink at a time with an 8-pack of stainless steel straws reduced to just $12.99 a pop!
See It: Grab an 8-pack of stainless steel straws (originally $50) now just $13! You save $37!
Check out more of our picks and deals here!


This post is brought to you by Us Weekly's Shop With Us team. The Shop With Us team aims to highlight products and services our readers might find interesting and useful, such as face masks, self tanners, Lululemon-style leggings and all the best gifts for everyone in your life. Product and service selection, however, is in no way intended to constitute an endorsement by either Us Weekly or of any celebrity mentioned in the post.
The Shop With Us team may receive products free of charge from manufacturers to test. In addition, Us Weekly receives compensation from the manufacturer of the products we write about when you click on a link and then purchase the product featured in an article. This does not drive our decision as to whether or not a product or service is featured or recommended. Shop With Us operates independently from advertising sales team. We welcome your feedback at ShopWithUs@usmagazine.com. Happy shopping!